Honestly, let's all face it. No matter how much you try, today, you will hear some K-pop song being played somewhere. There will be a K-pop fan somewhere. It might be your friend, cousin, beloved or even your parent. In other words, there's no escaping from the K-pop world.
So, whether you are a new K-pop fan or just a friend trying to convince your friend that K-pop is the reason why you live, here are songs that any beginner should try.
#1. Blood, Sweat & Tears – BTS
To be honest with you, I was not even going to mention BTS. And, before you start cursing and swearing at me, let me tell you that's because they have so many, so many great songs (actually great is an understatement) that I don't even know which one to mention.
Written by "Hitman" Bang, Kim Do-hoon, RM, Suga, J-Hope, and Pdogg, this song is a very special one for both BTS and Army (their fandom) as this is what made them climb up the music hierarchy.
When this song was released in 2016, they did not only reach number 26 on the Billboard 200 chart and won a Bonsang (some sort of excellence award) at the Golden Disk Awards, but they also won a Billboard Music Award the following year for the top social artist, which marked the first step of K-pop in the world.
Blood, Sweat & Tears has everything that makes a BTS song ground-breaking: sensational lyrics, bootylicious dance moves and stunning concept as always. And, if this song doesn't make you want to listen to it over and over again, well, I will change my name then.
#2. Fantastic Baby – BIGBANG
Bigbang is not any K-pop group. Debuted in 2006, this boy band dominated the K-pop world with its dynamic songs, energetic music and without forgetting the striking looks. But, Bigbang brought more than their good looks and music to the music world in South Korea.
Apparently, Bigbang is the first-ever group to write and produce their own music. They are also the first K-pop group who created the concept of colorful hairstyles. And, I have to give that honor to G-Dragon, who started this trend, when he colored his hair pink, blue, neon green, orange.
Without a doubt, I can tell you that it's like a real feast to listen to their songs. But, trust me, out of all, Fantastic Baby is sure to make you dance, dance and dance.
#3. Playing

W

ith Fire – BLACKPINK
"Blackpink in your area…"
Come on, who doesn't like some hot bad-girl songs?
Blackpink is a girl K-pop group that can make you easily addicted to it (whether you are a boy or girl). And, if you are a fan of explosive, energetic and empowering music, well, sorry, my friend, but by the end of the song, you will be more than obsessed with the four reigning queens of K-pop (and there you will start stalking them on social media – that's a bet).
From the catchy opening music to the last dancing steps, you will be completely hooked (like a drug addict on cocaine).
#4. As If It's Your Last – BLACKPINK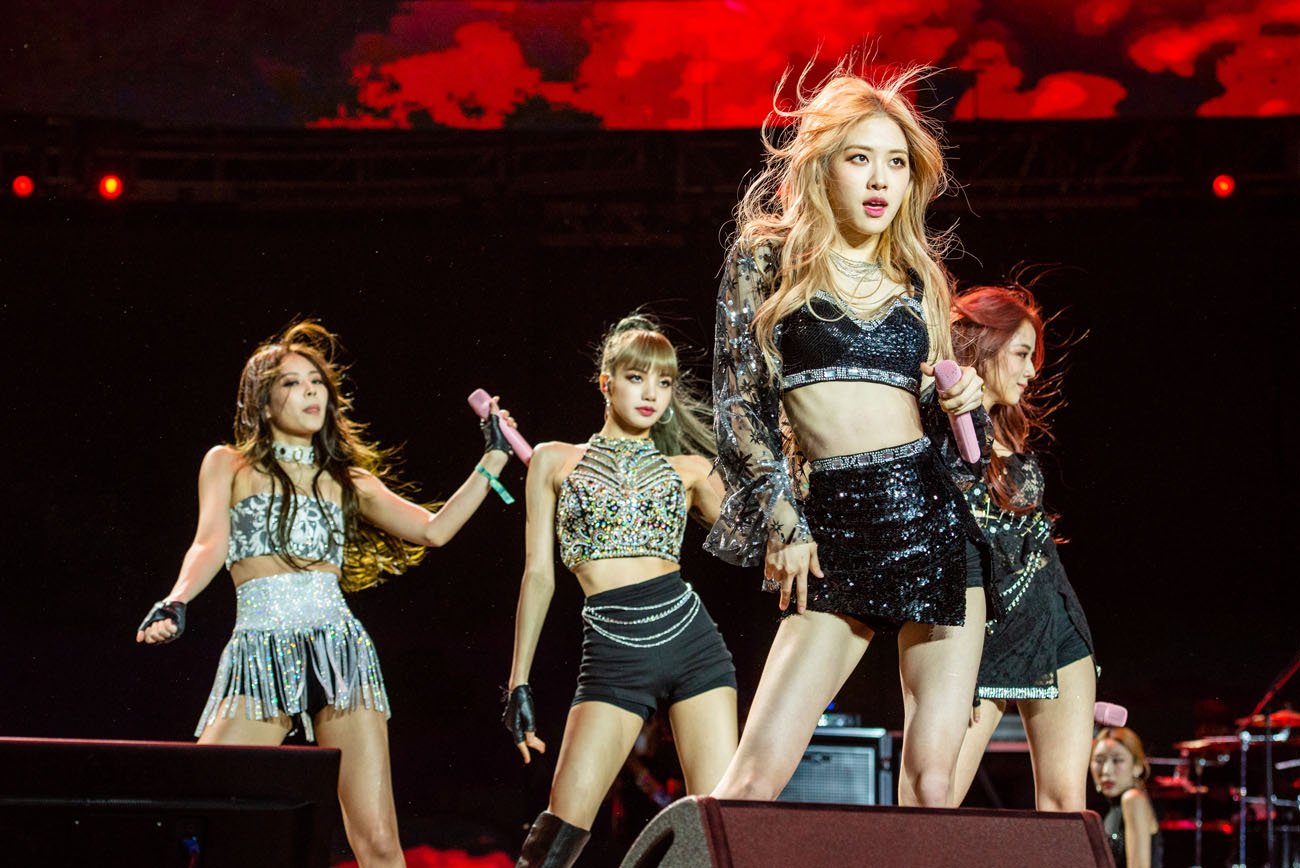 This one song is too great that I don't have any option other than to mention it (or, maybe simply cause I'm pretty addicted to it).
The pretty hot girls are back with another incredible song and this time they are a hundred times more tempting and irresistible than before (especially Jennie in her short, seducing dress and with a sweet ice cream).
This time their song will not encourage you to play with fire (or trouble) but rather to be more open, send flirty texts, enjoy your love life and, in short live your life to the fullest.
#5. Cheer Up – TWICE
I am sure you must have heard of BTS and BLACKPINK. But what about TWICE?
For those who don't know, Twice is another amazing girl K-pop group. And, prepare yourself as this time, there are not four, but rather nine gorgeous girls with innocent-looking faces.
If you are looking for a more cute or girl crush type of music, you need to give this song a try. And, even when you are feeling down, you can trust Sana' s Shy-Shy to lift up your spirits.
The list is not completed yet and there are many, many more. But, I guess for today, that will be enough. So, until then, I just hope you can fall in love with these songs.