Looking to discover some of the wackiest games that exist? You've clicked on the right title; this article is a continuation of our list on some of the weirdest sports that people play around the world. And if you haven't read our first part, you can find it here. Enjoy your reading!
Extreme Ironing
Are you an extreme athlete who loves performance? Then you will probably love the concept of extreme ironing. Extreme ironers take ironing boards and irons to inaccessible places and then stand to iron clothes in the most unlikely of situations. Examples of places where extreme ironing has been practiced include mountaintops, cliffs, underwater, under ice, on the ski slope during a descent, in the middle of a highway, and in the air during a parachute jump. An interesting variation of this sport is bungee jumping, where practitioners attempt to iron clothes during a bungee jump.
Ki-otoshi
Ki-otoshi is the name of a sport, or more precisely a ceremony, practiced every six years during the Onbanshira religious festival in Japan. During this festival, large trees are cut down and dragged down a mountain to a sacred temple. In some places, the mountain is so steep that the heavy trunks begin to slide down the hill on their own, and the Japanese try to prove their bravery by riding on them. The one who manages to stay the longest is the best. The tree trunks weigh several tons and sometimes skim so violently over the uneven ground that the participants fly in all directions or end up under the logs.
The Redneck Games
The Redneck Games have been held annually since their inception in 1996 in East Dublin, Georgia, USA. Thousands of rednecks have gathered to walk around with no clothes on and compete in several redneck-inspired events. Disciplines included carrot spitting, toilet seat throwing, belly buttoning, the biggest hair contest, the wet T-shirt contest, armpit bouncing, belly flopping in a mud puddle, dumpster diving, spitting bugs with a spittoon, and pig's feet mouth fishing in a bathtub. The winner of a branch receives a trophy representing a dented, non-alcoholic beer can. The Redneck Games were last held in 2012.
Nathan's Hot Dog Eating Contest
Eating contests of various kinds are common around the world. The most classic food to shove down your throat is hot dogs with bread. The hot dog eating champion is crowned every year at the prestigious Nathan's Hot Dog Eating Contest in New York. In recent years, the contest has been won by the sport's big star, Joey Chestnut, nicknamed "Jaws". In 2018, he set a new record, devouring 74 hot dogs and bread in 10 minutes.
Stomach Splash
Competing to see who can make the best-looking belly flop is a sport for the bravest. A rather famous, but not so serious, belly flop contest is the one held every year on the American talk show Jimmy Kimmel Live!
The biggest legend in the field is Darren Taylor, aka Professor Splash, who specializes in belly splashes in giant deep pools. He holds several world records, including a 12m jump into a pool with only 30cm of water!
Bog Snorkelling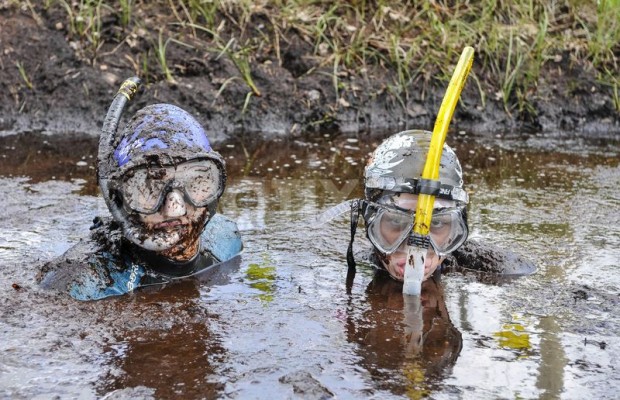 Bog snorkelling means "ant snorkelling" and is probably the dirtiest swimming sport in the world. In competitions, you have to swim two lengths in an excavated trench in a peat bog. Participants must use a snorkel and flippers, and they are not allowed to do real swimming strokes with their arms, only paddle with their feet. The World Bog Snorkelling Championships are held every year in Wales, with proceeds going to charity.
What's the strangest game or sport you've ever played? Share your experience with us in the comment section below!